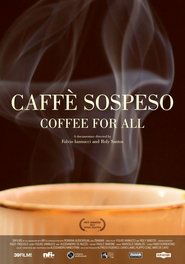 مشاهدة فيلم Coffee for All مترجم
In Naples, Buenos Aires and New York, people reflect on the Neapolitan tradition of "suspended coffee" and how it changed their lives.
May. 07, 2017
69 Min.
القصة
Just as "the fluttering of the wings of a butterfly can be felt on the other side of the world" (according to the Chinese proverb) a coffee offered in Naples can be felt in Buenos Aires and replicated in New York. In the bars of threedifferent cities ofthe world, the camera will record the "first flutter" of a coffee cup offered to a customer.
Original title
Caffè Sospeso
TMDb Rating 6.5 4 votes
Director
Cast